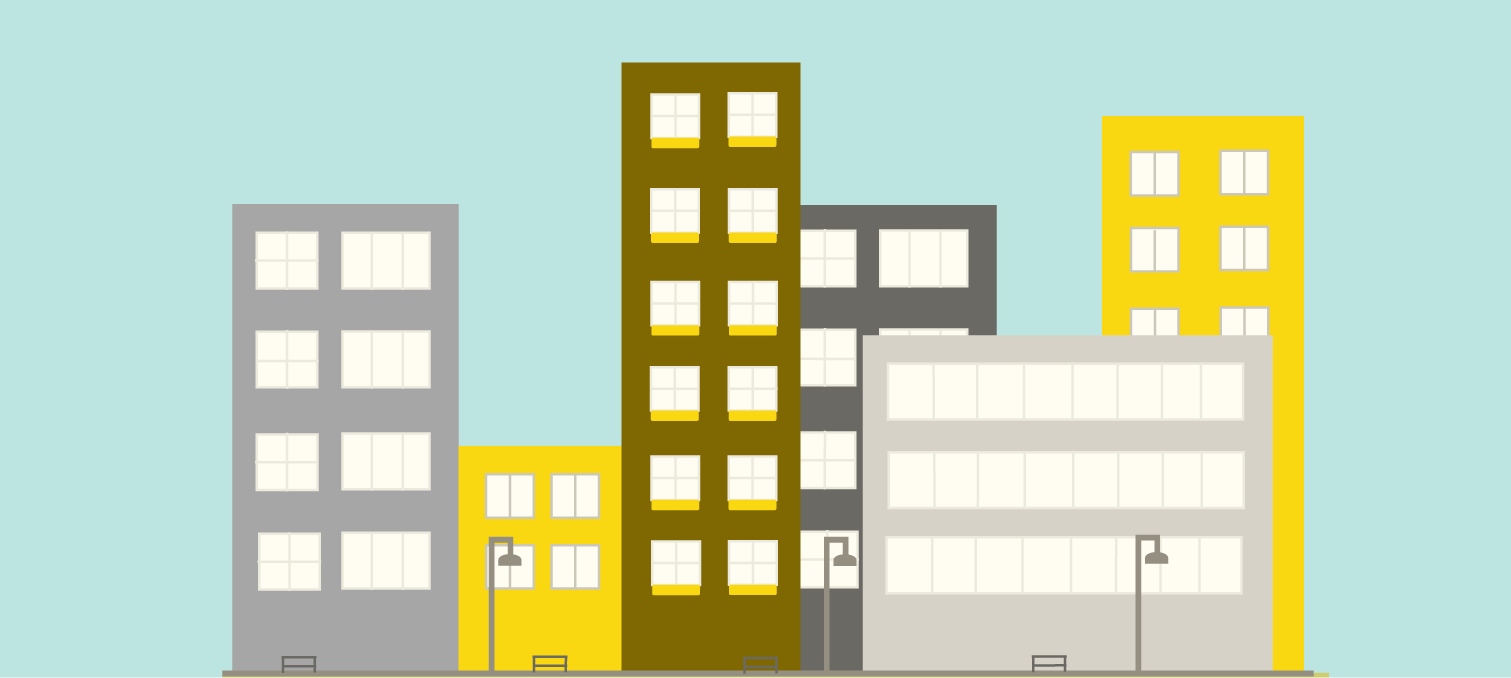 Before:
Store emergency supplies 

Keep a grab and go bag handy in case you need to leave for an extended period.
Store enough water, food, and emergency supplies to last 7 days.
Store 20L of water per person per day for 7 days. We realise this is a lot of water to store in smaller apartments. The World Health Organisation states that for basic survival we require 3L of water per day, so storing 21L of water per person in your apartment would be enough to help you through the first week after an emergency. Find out more about storing water
To save space in your apartment, use the food in your pantry as your emergency food supply. Try to keep it as well stocked as you can.
Some of the essential items for apartment dwellers to store are a multi-tool, can opener, duct tape, water filters, torch, battery powered radio, first aid kit and a portable power bank. These items don't take up much room and are useful following an emergency.
Top tips for storing emergency supplies

Storage space in high rise buildings is often at a premium, so get creative – the back of your pantry, closets, under your bed or behind your couch are all good storage options.
Keep emergency supplies in square containers - this makes for easier stacking and takes up less room.
Store two sets of supplies in your apartment. An essential set of supplies for when you have to evacuate quickly for an extended period of time, and another for if you are able to return and/or stay in your building.
Store some supplies at a family or friend's house, nearby in the region. This way, if you are unable to return to your building you will still be able to access some of your emergency supplies.

Secure your furniture

Most of the injuries following large earthquakes occur from falling, unsecured furniture. If you are renting, talk to your landlord about securing heavy items. If you cannot secure furniture to the walls, make sure you place your larger, heavier items on the bottom shelves. Blu-Tack can be used to secure smaller items as well as 3M strips for lighter furniture.

> Find out more about making your home safe
How to make an emergency toilet

How to make an emergency toilet if you live in an apartment:

Use two buckets as above (one for wee and one for poo)
Line your poo bucket with a sturdy bin liner/bag.
In your poo bucket: when you have finished, add a large cup or handful of dry mulch (sawdust, kitty litter, straw, dry leaves, soil, or shredded newspaper) to cover your poo. Then close the lid and wash your hands!
Try to keep the poo bucket as dry as possible. Sometimes it's hard to poo without wee coming out, but if you can keep them separate, then this will keep the smell down and make it safer to handle.
Use the sawdust, straw, or shredded newspaper to absorb any spills.
Your poo bucket will need to be emptied at least every three days.

Disposing your wee and poo:

Dilute your wee and empty into a green space outside.
Put your poo bag in your normal apartment skip bin.
Get to know the people in your building: 
Find out if your building is in a tsunami zone

Click here to find out if your building is in a tsunami zone, and learn about the different evacuation zones.
Find out if your building is earthquake safe

The Residential Tenancy Act does not state a landlord must provide an engineer's report to the tenant, but it is recommended best practice. However, any building used for business activities requires the owner and the tenant to fulfil various duties under the Health and Safety at Work Act 2015.

Most importantly, they have a duty to consult, co-operate and co-ordinate with one another. Ask your building owner if they have had a recent engineers report from a chartered engineer to determine the building's tolerance to an earthquake. If either party is failing to consult or co-operate effectively over building safety, contact your local council and/or the tenancy tribunal.
During:
Drop, Cover, Hold

If an earthquake occurs, Drop, Cover and Hold until the shaking stops. Do not try to leave your building while the ground is still shaking.
If an earthquake is long OR strong, get gone! This means if the shaking is longer than a minute or strong enough to knock you off your feet, it is a natural sign that the earthquake is local and likely to pose a tsunami threat. As soon as the shaking stops you will need to head inland, uphill or to the fifth floor and higher.
Be mindful of aftershocks, and if they occur make sure you Drop, Cover and Hold again before continuing.
If you don't think you will have enough time to evacuate your building, we recommend that you make your way to the fifth floor or higher within your building.
There are currently no building standards for tsunami in New Zealand, so it cannot be determined if a building is tsunami safe and can be used for vertical evacuation. You should only consider vertical evacuation if there is no other option, and you will need to be prepared to stay for up to 7 days without official support.
How to safely exit your building

Use the staircase but be aware of damage and debris. When exiting the building, be aware of materials above and around the entrance of the building which could cause injury.
DO NOT use the elevator following a large earthquake.
Evacuating if you live in a tsunami zone

For a locally generated tsunami you could have as little as 10 minutes to move inland, uphill or to the fifth floor or higher before the first tsunami waves reach the coastline. The earthquake is likely to feel bigger than any earthquake you have experienced prior – it will continue for a minute or longer and be strong enough to knock you off your feet.
Should you stay or should you go?

If you think you have enough time to evacuate your building, get as far in-land and uphill as fast as you can. If you choose to stay in your building you need to go to the fifth floor or higher to be safe from a tsunami. You should only stay in your building if you think it is more dangerous evacuating by foot.
After:
Where should I go if I can't stay in my building?

As part of your household plan identify an alternative place to stay outside of the tsunami zone, perhaps with a friend or family member.
Make sure you discuss your plan with them and have a grab bag in your building with enough supplies, to make sure you can get there safely.
Who is responsible for checking my building is safe after an earthquake?

Building owners are primarily responsible for ensuring buildings remain structurally sound following a major event and assisting authorised Civil Defence Emergency Management officials or your local council.
If a state of emergency has been declared, Civil Defence and Emergency Management has the legislative powers to inspect buildings to ensure their safety. Buildings will typically be inspected and stickered depending on the state of your building.
If no state of emergency is declared, your local council is likely to become involved where buildings may be dangerous or unsanitary.
Liaise with your landlord and/or building manager during this time